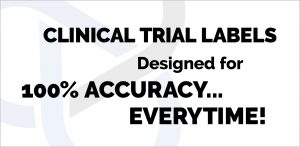 To be a leader in a field as demanding as clinical trial label production, you not only need to have the highest quality end-product, use good manufacturing processes and deliver with urgency and accuracy 100% of the time. . .
You must also understand your client's needs completely because there is so much at stake. Why? Because inaccurate labeling can be catastrophic, putting patients health at risk and jeopardizing your entire drug trial.
Our Goal is 100% Accuracy, 100% of the Time
At CCL Clinical Systems, our entire business model is focused on one thing—accurately producing clinical labels that meet your timing goals—so we are uniquely positioned to apply all our talent, industry-specific knowledge and cutting-edge software systems on setting the industry standard.
Decades of Experience and Powerful Software Systems
With decades of experience, the CCL Clinical Systems executive team has learned that the best way to control label accuracy and quality is to develop all our own software systems internally and to use them to create our clinical labels for our clients. Our proprietary software systems—developed and refined over 30 years—are the most sophisticated tools in the industry providing end-to-end job management for each client and every project. Importantly, all of our systems are developed and maintained by our own IT team of experts. Each system has been validated and is 21 CFR Part 11 compliant.

For more information about our company, products and services, contact us