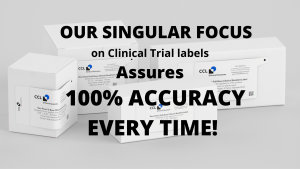 We provide Clinical Booklet Labels and Conventional Clinical Labels that are available in a variety of configurations to support all of your unique study needs. Labels can be provided on rolls or fan-folded to support your preferred packaging methods.
Accurate Labeling Plays a Crucial Role in Directing Treatment
Producing clinical labels requires a special combination of technical prowess, well integrated quality systems and an experienced and knowledgeable staff. The data printed on clinical labels directs the administration of advanced medical treatments to subjects around the globe. Considering what the consequences would be if inaccurate labeling misdirected treatment in some way, it makes sense to take every precaution available and to use only the highest quality product obtainable. CCL Clinical Systems' contract labeling services live up to that standard.
For more information about Clinical Systems and our powerful software tools, you can read more here.