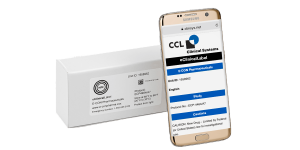 CCL Clinical Systems, has always been at the leading edge in clinical label innovations. As digital options have emerged, we have leveraged cutting-edge technologies to develop and deploy our groundbreaking eClinicalLabel—a new capability for the next generation of clinical labeling.
Using RFID technology, CCL Clinical Systems can now encode NFC (Near Field Communication) eLabels that will enable access to data for clinical trial materials on a smart device. Once scanned, NFC technology allows the subject and clinical site to electronically access the encoded information.
All the data on the label, both printed and encoded, is created by our powerful ClinPro/LBL label generation system. This is the most sophisticated clinical labeling tool in the industry and all system functions have been validated.
To learn more, talk to our CCL Clinical Systems product experts.